Cradle Song, 1955
Versions: 3 welded steel
"According to Roszak, the title of the work refers to the birth of his daughter Sara Jane in 1947, while content derives from his memories of her childhood:
"At the age of two, she had several dreams in which she saw a cradle in the stars. She'd tell me about this object that she clearly saw and we'd work at it and then she'd tell me more, and I'd work more at it and this is the result. Something of the exploding star form has appeared in this, too…Children ask extraordinary questions, sometimes not wanting an answer. One night at Cape Ann, my daughter turned to me and asked: "Why is the moon so sharp?" and this reminded me of other naive and anxious questions she had asked, such as " We do have the biggest army in the world, don't we, daddy?" Later, out of this, came a sudden desire on my part to create something that would embody, side by side, the soft probing quality of the child-mind and the terrible menace that surrounds it everywhere." (Theodore Roszak)" [-Lucy Flint-Gohlke, Walker Art Center: Painting and Sculpture From the Collection, 1990]
"I drew this when Sara Jane was a child and she would tell me about this cradle she would see in the heavens and the stars, and I thought it would be a very nice kind of memento of an experience that any parent would share, and at the same time her own drawings of this were very stimulating and fresh and had the embodiment of this very simple idea of a cradle or a lullaby." [Theodore Roszak Interview with James Elliott, 1956, p. 28]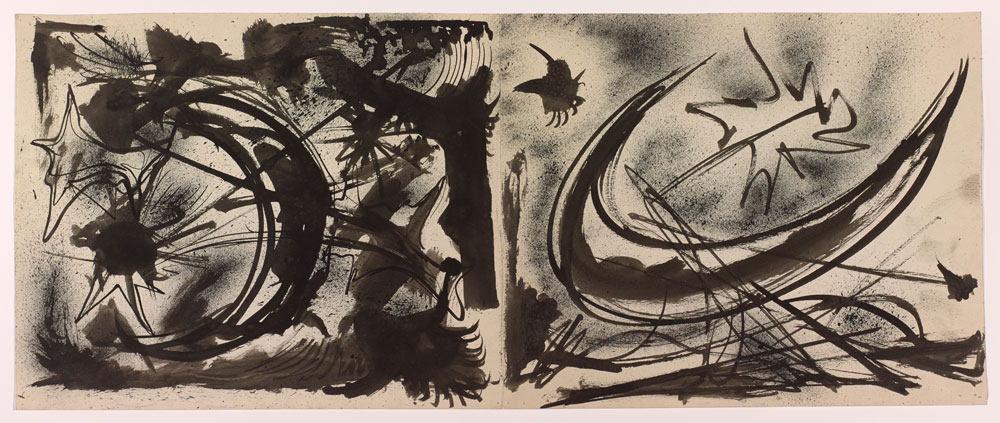 Cradle Song, 1954
India ink, brush (wash), pochoir on paper
13 in. x 16 in (33.02 cm x 40.64 cm)
Location: Bowdoin College Museum of Art, Brunswick, Maine. Gift of the Theodore Roszak Estate (2010).