Invocation I, 1947
"The Invocation series represents a more ambitious attempt to translate and interpret fundamental ideas concerning the meaning of life. Invocation I (1947) is an overt and violent symbol of sex and fertility, an invocation to life and survival. Invocation II (1950-51), using chalice and candelabra forms, suggests the nature of and the need for spiritual life; while Invocation III…attempts to combine the spiritual and physical elements in terms of the salient characteristics of his sculptural forms. "
[H.H. Arnason, Theodore Roszak, The Walker Art Center, 1956]
Invocation I, 1947
Steel
30 3/8 x 21 3/4 x 14 1/4 inches (77.2 x 55.2 x 36.2 cm)
Collection: Hirshhorn Museum and Sculpture Garden, Smithsonian Institution, Washington, DC, Gift of Joseph H. Hirshhorn, 1966. Purchased from Pierre Matisse Gallery, New York 1961.
"This is the first of the series of pieces that have to do with invoking the whole symbol and meaning of life, and here we have a kind of crude sense of wild forms and forms that survive under a dire circumstance and somehow manage to integrate into a mature structure. A lot of these forms I have seen in my travels in the southwest where they abound on the prairie of that part of the country. The fecundity, of course, here is emphasized by the obviously female symbolism and the fruitful kind of effusion that follows in the wake of any kind of fruition, and these are the protecting devices ensnaring it into an almost involuntary desire to perpetuate the species. It is a kind of invocation to life, depending upon the most extreme means of survival in order, at any expense, to protect its species and produce its own prototype." [Theodore Roszak Interview with Elliott, 1956, p.16-17]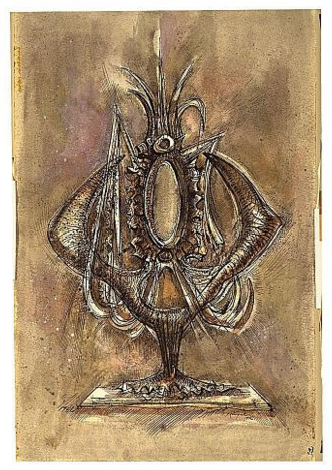 Invocation-No, I (Study for Sculpture), 1946
Invocation I (Sculpture Study), 1946